Klaus Baudelaire brother of the Baudelaire orphans, and the only boy. He is a brilliant researcher, and loves to read. He is known to look like Harry Potter. He often saves his sibling with his knowledge.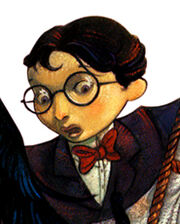 Personality and Traits
Edit
Klaus loves to read.
Klaus hated Sunny when she was born, but after a few months they became thick as theives.
His favorite book is The Water Cycle, Volume 196.